Easy to move, easy to live with
The Blueair Classic 205 is lightweight and easy to move around your home. With its compact fan design and huge filter surface,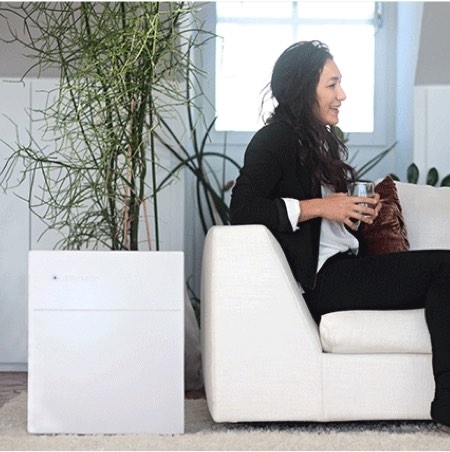 it delivers solid performance, freeing your home of allergy and asthma triggers. And its Smokestop filter clears away chemicals, VOCs, fumes, toxins, gases and smoker. Fits easily into even the smallest of rooms. And whilst it's rated for a minimum 26m2, even at speed #1 it generates >100m3/h - meaning that it changes the entire air in an average sized bedroom around 2.5 times every hour. That's superb air cleaning efficiency.
Unique Blueair HEPASilent Technology
The new Blueair Classic 205 uses Blueair HEPASilent to remove virtually all airborne pollutants. Using the best in electrostatic and mechanical filtration, our HEPASilent Technology is a revolutionary combination of advanced filter media and an encapsulated particle-charging chamber.  And its Smokestop carbon granules filter clears away chemicals, VOCs, fumes, toxins, gases and smoke. This ensures that your Blueair purifier delivers results far superior than standard air cleaners.
In touch with your clean air
Touch buttons on the updated digital control panel make the new Blueair Classic 205 work tirelessly for you. Easy-to-read LED icons let you see the status of your air purifier's Wi-Fi connection, operating speed and filter. Adjusting operation is easy. Just touch. Add our Blueair Aware monitor and download the free Blueair Friend app. This enables you to control the new Classic from afar, see room air quality and access outdoor air quality data in real time in most major urban areas.
Can I disable the Wi-Fi function?
To turn off the Wi-Fi function, press the Wi-Fi and filter buttons simultaneously for more than three seconds.
To turn on the Wi-Fi function again, press only the Wi-Fi button for more than three seconds.