PORTABLE
Take your AirVisual Pro with you and monitor invisible threats anytime, anywhere. What's entering your lungs right now?
The AirVisual Pro is purposely designed to be as lightweight and easy to carry as possible so you can always have it with you. It is the most affordable, portable and accurate air quality monitoring device ever created.
COMPARE INDOOR AND OUTDOOR AIR QUALITY
Now you can discover your local air pollution sources. Your AirVisual Pro allows you to see your Indoor Air Quality alongside the nearest official monitoring station.
Use this information to help pinpoint pollution sources. Get the data you need to make informed decisions to better protect you health.
Features include:
Comprehensive indoor/outdoor air advisor
Accurate, professional-grade PM2.5 (laser sensor), CO2, Temp and Humidity measurements
Indoor & outdoor air quality displayed side by side*
7-day air quality & weather forecasts*
Tailored recommendations
Internal battery & data storage
Option to broadcast air quality data publicly
IFTTT for smart home integration, automatically cue 3rd party devices
#1 rated air pollution companion app. iPhone iOS (8 or later), Android (4 or later), WiFi  2.4GHz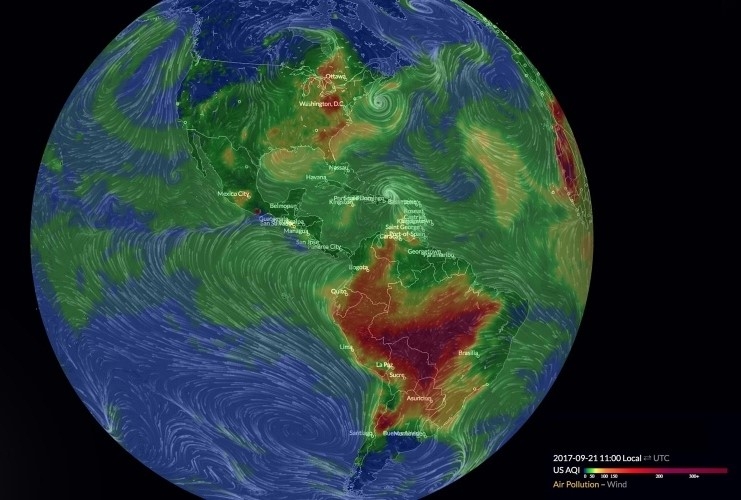 AIR VISUAL EARTH
 Air Visual Earth is the first ever 3D air pollution map.  Watch the mesmerising interface as pollutant interact with weather patterns.
 Air Visual Earth is a truly groundbrekaing endeavour.  It is generated from satellite images and data from 10 thousand outsdoor air pollution monitoring stations.  Spin the globe, zoom in and out, track the air quality.  Air Visual Earth is technology for a better world.
JOIN THE GLOBAL NETWORK!
AirVisual Pro offers data from more than 10,000 locations around the world and this is growing fast. 
Become a contributor. It's easy - simply register your AVP as a designated public outdoor station.
A POLLUTANT-FREE "SMART" HOME
Program maximum clean air into your smart home with AirVisual IFTTT applets.
Use 'If This - Then That' (IFTTT) applets with your AirVisual Pro monitoring stations to get live alerts and program automatic conditional responses when your air quality changes.  AirVisual IFTTT applets work with other smart home actions and technology.  PM2.5 too high?  Your AirVisual Pro will trigger your room air purifier or smart thermostat to clean your space and clear out indoor pollutants.  Want to keep track of every time your IAQ becomes unhealthy?  Your AirVisual Pro will record high PM2.5 levels in a spreadsheet for later use.  Create your own IFTTT to help make your home the perfect clean air sanctuary.
Go to ifttt.com/IQAir to see all applets available for your AirVisual Pro, or create your own so that indoor conditions are always just right.  And come back often: new IQAir IFTTT applets are regularly added.