Here is ultra high-performance particle control in a compact design. The HealthPro 100 aircleaner features the same advanced micro- and nano-particle filter technologies as other HealthPro models but in a smaller housing to make it more suitable for small apartments and offices. The HealthPro 100 effectively removes all common allergens, micro-organisms, dust - even bacteria and viruses. This makes the The HealthPro 100 aircleaner the ideal choice for allergy sufferers and other health-conscious individuals that need high-efficiency contaminant removal in a compact size. Coverage area more than 95 m².
**The HyperHEPA® difference
Most airpurifiers only filter particles larger than 0.3 microns in size, but 90% of all ultra fine particles are actually smaller than 0.3 microns. This means that most air purifiers are only filtering 10% of the particles in your air. IQAir's patented HyperHEPA filters are the first filters tested and certified to filter down to 0.003 microns with a guaranteed minimum efficiency of 99.95% irrespective of particle size or fan speed. This allows your HealthPro to capture the ultra fine particles that other air purifiers miss.
HOW IT WORKS: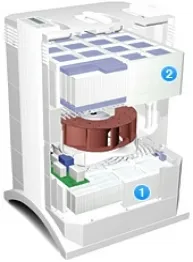 1. Micro-particle filtration: Eliminates micro-particles such as pollen, pet dander and mould spores.
2. HyperHEPA® filtration*: Eliminates the tiniest of micro-particles - dust, pollens, mould spores, combustion particles from vehicles and smoke, as well as bacteria, viruses and through its nano-fibre structure.