The IQAir Perfect 16 is a fan-less air filter system is designed to be installed in combination with new or existing air-con or heating HVAC systems. The special feature of the Perfect 16 system is its uniquely low airflow resistance combined with very high filtration efficiency (≥ 95%). In fact, the Perfect 16 offers the closest thing to HEPA-filtration without the very high and detrimental airflow resistance associated with normal HEPA-filter installations in ventilation ducts.
The Perfect 16 will also capture 96% of viruses , including coronavirus, which has a diameter between 0.08 and 0.12 microns.
The Perfect 16 is the only system that is rated a perfect MERV 16, the highest filtration efficiency for removing dust, viruses,  dust mites, pollens, bacteria, pet allergens, mould spores and other harmful contaminants.  No other ducted air cleaning system can offer particle removal of more than 95% for .3 micron (HEPA) and more than 85% for .003 microns (100 x better than HEPA.) The efficiency was independently verified by a leading German aerosol test laboratory. Genuine medical grade indoor air quality.
Ultra-low air restriction
Ultra-low restriction plays a key role in making the Perfect 16 system energy efficient. This unprecedented level of air filtration sophistication is accomplished through the use of state-of-the-art advanced microfiber filtration technology. Conventional whole-house air cleaners can impede the air flow of your central heating and air conditioning system by as much as 50%.  Filter fibers in the Perfect 16 are 10 times thinner than standard air filters. Air easily passes through the Perfect 16's V2 filter design, even though the actual surface area contains up to 50 times more filtration media than typical filters. Meanwhile, the ultra-fine threads create an almost impenetrable barrier to pollution particles. The result is an ultra-efficient and ultra-low restriction filter that sets a new standard for whole-house air purifiers.
There are two models, the
ID 2225 for 660 litres air per sec (l/s) capacity @ RRP $2,800 incl gst. Delivery additional.
ID 2530 for 943 litres air per sec capacity (l/s) @ RRP $3,700 incl gst. Delivery additional.
INSTALLATION:  Download the Installation Manual to use as a guide. There are two factors that first must be established:
The air volume that the system generates – expressed as litres per second (lps or l/s). This will determine the model type/s of P16 required.
That the fan of the system can operate independently of the heater or compressor, so that pure air can be generated without the cooling or heating operating.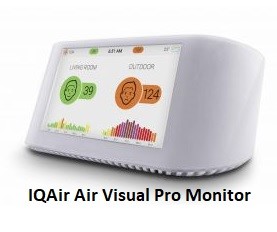 Whilst independent testing fully supports the Perfect 16 performance, we encourage intending purchasers to also invest in the IQAir Air Visual Pro. This unit will give a pre-installation particle level reading which can then be compared with post installation. And then used long term to monitor levels of particles, carbon dioxide, temperature and humidity. Not included - Price $499 incl gst.
Installation suppliers: as we sell the P16 all over Australia, we cannot provide installation services. Nor can we recommend any as we cannot endorse an independent contractor's performance. We suggest contacting the original installer or a local sub-contractor in your area for a quote.
The Perfect 16, given its unique filtration performance, is the most economical means of particle air purification available. (Evaporative coolers will not work with the P16.)
However, it does not contain any carbon media for the removal of gases, chemicals or fumes - this must be addressed via another model such as the IQAir GC or GCX.
On 50% usage cycle (12hours/7days), P16 filters will last 3 years, replacements currently are $800/$1,100. (All prices include gst and subject to change without notice).
(WARRANTY ISSUES: The Perfect 16 is a simple filtration device, which does not affect the warranty of an HVAC system any more or less than that of another filter. In fact, the Perfect 16 creates less static pressure than many other filters or filtration systems, including those offered by HVAC manufacturers. IQ Air has installed thousands of Perfect 16 systems through hundreds of HVAC installers in the USA and Canada with dozens of different HVAC makes and models.
There has never been any issue regarding an HVAC Manufacturer's warranty.)

SEMKO TEST report for whole house air purifier
The Perfect 16 is the only whole-house air filtration system that is rated a perfect MERV 16, the highest rating possible. Intertek/ETL SEMKO subjected the Perfect 16 to rigorous testing based on the toughest industry standards and certified it as MERV (Minimum Efficiency Reporting Value) 16. This independent test report proves that the IQAir Perfect 16 cleans the air with a minimum efficiency of 95% for particles 0.3 microns and larger, and more than 85% of all ultrafine particles down to 0.003 microns, the smallest particles that exist.
It shows that the Perfect 16 can trap up to 96% of virus-sized particles, to help prevent the spread of airborne viruses through ventilation systems. For that reason MERV 16 filters are recommended for use in general surgery as well as hospital inpatient care in medical facilities.
What is the difference between H13 filters and MERV 16?
While a MERV 16 filter captures >95% of particles in the entire size range tested (0.3-10.0 microns), a HEPA filter captures 99.97% of particles with a size of 0.3 microns.