Exposure to Aerosolised Coronavirus in Dental Practices
IQAir is acutely aware that dentist are one particular profession that is greatly affected by the Covid-19 pandemic, because dental staff are exposed to an elevated risk of infection due to the potential of the novel coronavirus SARS-CoV-2 becoming aerosolised during normal dental procedures.
That the dental profession is exposed to an increased risk is supported by a research study published on March 17, 2020 in The New England Journal of Medicine N Engl J Med. 2020 Mar 17. doi: 10.1056/NEJMc2004973 (link). The research indicates that the novel coronavirus can remain viable in aerosolised form for up to 3 hours. The scientists also found that virus remained viable on surfaces for up to 72 hours. The results indicate that aerosol and fomite transmission of the coronavirus is plausible, since it can remain viable and infectious in aerosols for hours and on surfaces up to days.
As various dental procedures can generate substantial amounts of aerosols that may contain infectious microorganisms, it is advisable to capture these aerosols as close to the source as possible to curb the proliferation and effectively reduce the microbial load in the ambient air.
IQAir Complete Dental Systems
With the IQAir Dental Series of high-efficiency air cleaning systems, IQAir has offered solutions for the effective source capture of microorganisms and chemical substances for over 20 years. The IQAir Dental Series features two distinct models for the filtration of chemical pollutants and microbiological aerosols found in dental environments – Dental Hg/FlexVac combination (see attached brochures).
Mercury (Hg) and Disinfectants
Regular exposure to mercury vapour from dental amalgam removal and placement and possible toxic effects from prolonged exposure to chemicals like Phenols and Aldehydes (formaldehyde and glutaraldehyde) from disinfectant use are serious consideration for any dental surgery.
Airborne Microorganism contaminants
Bacteria and viruses are easily spread through a dental practice, from standard procedures such as drilling and scaling. As ultra fine aerosols are generated from normal dental procedures, the resulting moisture droplets containing blood, saliva and filling particles that can be captured by the IQAir unit, stay airborne for many hours, presenting a high risk of infectious disease transmission.
To arm the dental industry IQAir developed specially impregnated media to combat the airborne issues they constantly face:
 1. IQAir Dental HG – Is specifically designed to deal with mercury vapour generated from drilling and placement of dental amalgams.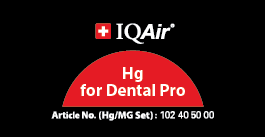 This unit has four cartridges of Hg media specifically to control mercury vapour and also remove microscopic particle matter such as aerosols and other redidue.
2. IQAir FlexVac
To capture mercury vapours directly at the operating site the air purifier unit is coupled with a flexible hosed vacuum system. The suction hose is placed on the patients chest for maximum effect, with a suction force of 20km/h ensuring total capture without leakage. The FlexiVac turns the Dental Pro into a direct extraction unit.
The FlexVac is usually installed as a moveable floor kit -  mobile FlexVac  . (A wall mounted version is also available  VM FlexVac but offers less flexibility. )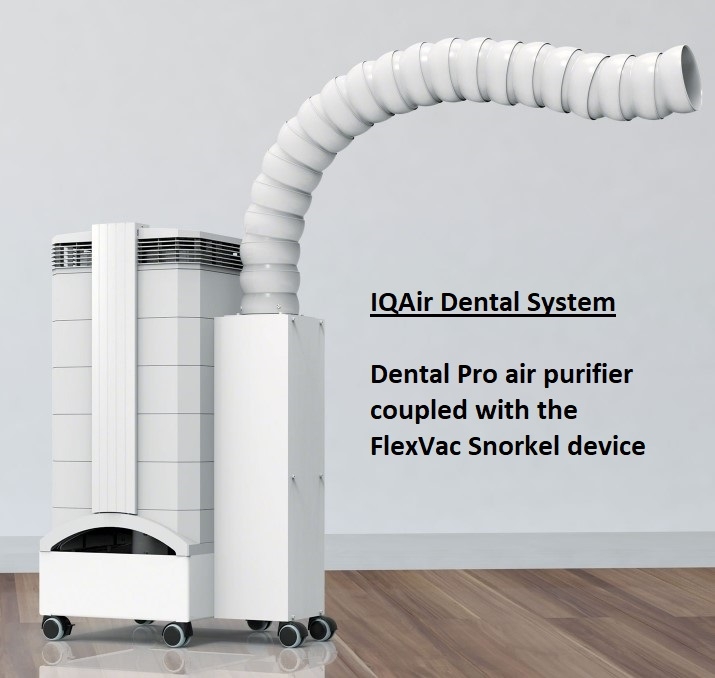 wall mounted unit
Mobile Unit