How it works:
The IQAir GC MultiGas features 4 stages of filtration, all sealed within an air tight construction to ensure that every litre of indrawn air is purified - no leakages.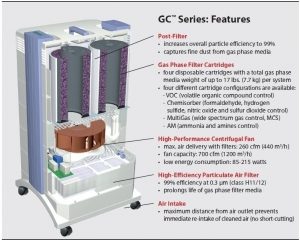 Stage 1 HEPA Prefilter: Air is drawn into the GC MultiGas through the bottom of the unit by the powerful fan and passes through the H11 Grade Prefilter. This process removes all sizes of particles from the air, including ultra fine particulate.
Stage 2 Four Cartridges of gas filtration media: These contain media which will adsorb chemicals, fumes, VOCs, gases, odours and smoke. There are several types of media, depending on the particular contaminants present. The choice of filter type is as follows:
MultiGas 50/50 carbon/permanganate blend - all purpose, broadest spectrum chemical and odour capture. Most popular choice.
VOC (100% carbon - alcohols, etc)This VOC option helps control the volatile organic compounds that are emitted by a variety of chemicals.
ChemiSorber (100% permanganate - thiols, formaldehyde...)
AM (for ammonia, amines) By special order only. Click here for acid/ammonia removal information
AcidPro (for phenols, acids) By special order only.
Stage 3 The media choice depends on the prevailing chemicals present. Please consult the this Chemicals List to identify those contaminants/chemicals present in your situation and choose the type of filter cartridges required.
Stage 4 Cartridge Sleeves: For the control of fine & ultra-fine particulate matter, these electrostatically charged fiber surfaces capture ultra fine particle matter.
All IQAir products are made from cured ABS computer grade plastics that do not off-gas into the air. IQAir individually test each and every GC air purifier and the results of each test are hand-signed and include with each unit upon shipping from the IQAir factory.
FEATURES & BENEFITS
Removes chemicals, solvents, odours, gases
Removes 95% particles @ .003 microns, 99% @ .3 microns
Coverage area +100 sq mts
6 speed settings
Quiet operation 30 - 57 dBA
Ozone free
Long life filters >3 years
Light, on easy-roll casters
Draft free air flow
Daily 24/7 on/off timer & run hours program
Tamper proof control feature
Filter replacement lights and hours monitor
Remote Control
Adjustable filter setting to suit conditions